Yoshie (Mia)Tsuruta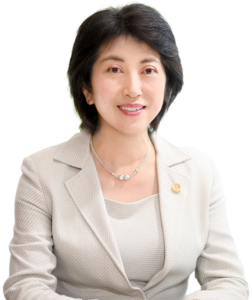 【Educational and Career Background】
Tsuda University, B.A. in International Relations
Studied at Utah State University, U.S.A., for 1 year
Waseda University, B.A. in Law
Sophia University Law School, Juris Doctor
Toyo University Law School, Juris Doctor
University of Cincinnati School of Law, LL.M (with honor)
【Greeting from Lawyer Tsuruta】
As I lived and spent many years abroad as a resident, a student and a visiting family(seven and a half years in USA ), I share the common experience with the foreign nationals living in Japan. I also believe I have strong empathy towards the people who have cross-border legal problems through my life, legal and academic experience. My area of legal service includes international family law, international properties (including inheritance) , employment, in addition to general civil cases.
Fluent in Japanese and English.
【Membership】
A member of International Exchange Committee, International Human Rights Committee, Hague Convention Committee of Daiichi Tokyo Bar Association.
【 Written Work】
Age Discrimination in Employment in Japan and the US (2020)