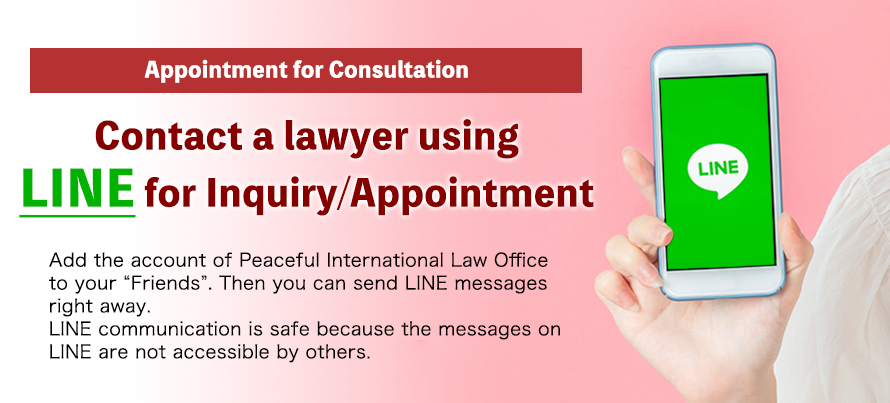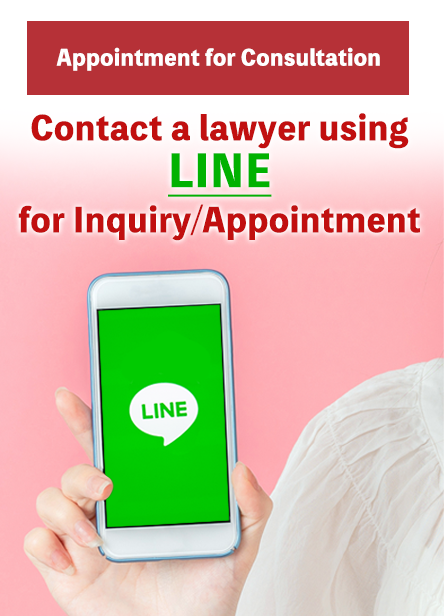 Appointment for consultation with a lawyer on LINE
Many of you may have encountered various troubles in your daily life and thought, "I want to consult a lawyer immediately." With Peaceful International Law Office, you can easily make an appointment for a consultation using LINE from your smartphone.
Just add a friend and send a message
You can send LINE messages immediately by adding Peaceful International Law Office to "Friends" to your LINE account. Unlike the telephone, you can send a message anytime you would like.
Please include the following in your message:
Name(required)

Residence (required)

Phone number (necessary for direct contact at a later date) (required)

Summary of consultation (what you want to consult with a lawyer) (required)
Privacy is secured by one-to-one message exchanges
Using the LINE official account, the content of the message can only be accessed by Peaceful International Law Office (not a group chat).
Therefore, no one else knows that you have added a "friend" or sent a message. Please feel free to contact us .
* Settings that do not provide talk content to LINE group companies
Click here to register as a friend
There are three ways to add Peaceful International Law Office as a "friend".
Scan the QR code below with the camera function of your smartphone and click "Add".





In the LINE search window, search for "@ 678wobms" and click "Add".



Frequently Asked Questions
Q.
What kind of projects can I make a consultation reservation?
A. Peaceful International Law Office accepts consultation reservations regarding divorce / international divorce, inheritance / international inheritance, wills / end of life, Hague cases, corporate legal affairs, general civil cases, etc.
Q.
Will the message reply come back soon?
A. We try to reply as soon as possible, but there are cases where we cannot reply immediately. If you wait a moment and still do not receive a reply, please try contacting us by phone or email.
Q.
Should I just add "friends"?
A. Sorry to trouble you, but please send a message after adding "friends" . The office cannot know who became a "friend" just by adding "friends". Only by sending the necessary information in the message, the office can confirm who is contacting you. We apologize for the inconvenience, but please send us a message with (1) your name, (2) your address, (3) your telephone number, and (4) the content of your consultation (what you would like to consult with a lawyer).
Q.
Is it possible to provide legal advice on LINE other than making a reservation for consultation?
A.  We are sorry, but we cannot accept legal advice on LINE. First of all, please make a reservation for consultation on LINE etc., and then visit us.
LINE is convenient for consultation reservations! Please add a friend here and send us a message.